FIRMS AND TONES
Lift and firm muscles to raise cheeks back to a more youthful state, while smoothing out creases around nose and mouth.
RAISES BROWS
Lift and raise the eyebrows, while firming saggy eyelids for a wide-eyed youthful appearance.
ERASE CROW'S FEET
Smooth out crow's feet by diminishing fine lines and wrinkles.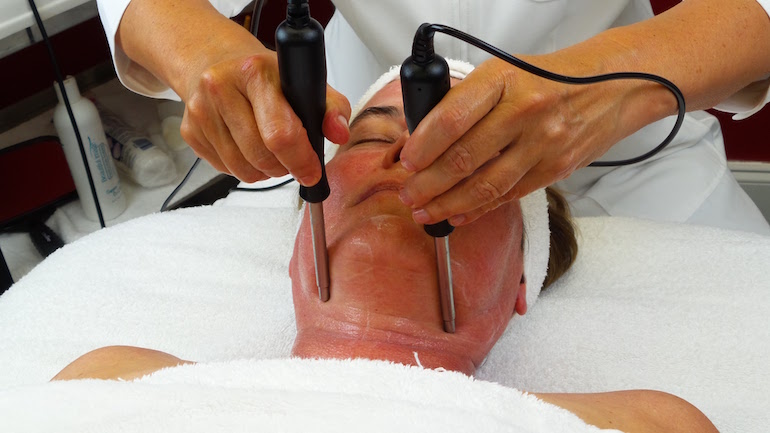 LIFT AND TIGHTEN
Lift, firm and tighten sagging jowls, double chin and neck.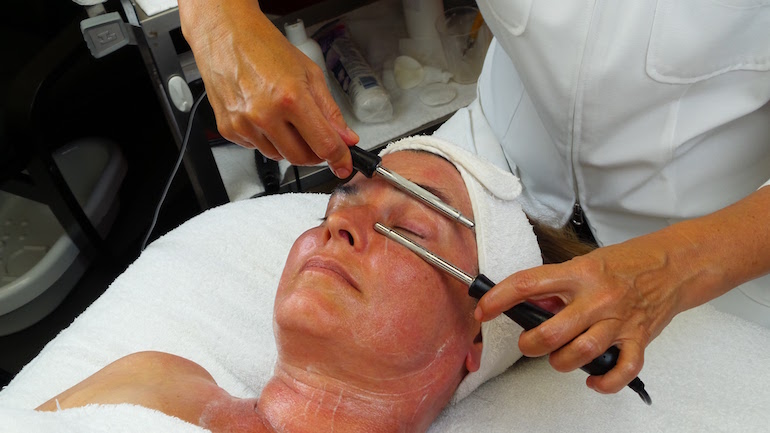 BRIGHTEN AND DE-PUFF
Diminish puffiness and dark circles, while erasing fine lines and wrinkles around the eyes.
The benefits of our BioSonic Facial Microcurrent Treatment is for anyone who wants to achieve or maintain a more youthful appearance without potentially the harmful effect of surgery.  This treatment is the most effective non-surgical treatment delivering an extremely gentle and safe non-invasive alternative to other procedures.  There are no knives, no pain, and no downtime.
As you age, your body's own electrical system begins to slow down; causing inevitable aging and unwanted sagging skin. Microcurrent works perfectly in harmony with you to speed up cellular rejuvenation.  Our BioSonic Facial provides a safe and painless low-level current to stimulate muscles and the production of collagen and elastin on both an immediate and long-term basis; resulting in a more firmer, younger and healthier looking you.
Improves skin tone and texture
Reduces the appearance of fine lines and wrinkles
Strengthens muscle tone
Lifts jowls and eyebrows
Improves circulation for a healthy glow
Increases lymphatic drainage to reduce puffiness
Tightens saggy eyelids
Increases cellular energy (ATP)
Boosts collagen and elastin production
Reduces inflammation
Reduces under eye puffiness and dark circles
Reduces scars by building collagen and dispersing scar tissue
You will see these benefits after your very first 45-minute BioSonic Facial; however, these benefits are cumulative.  Your personal and significant results of muscle re-education and cellular rejuvenation can be maintained with monthly treatments and are also dependent upon your lifestyle, age, and condition of your skin.  Our BioSonic Facial is the most natural, safe, relaxing and effective way to maintain your youthful look or to turn back the hands of time.
Real People, Real Results
Never in a million years did I think anything could help with my 77 year old aging skin and my under eye dark circles…until a friend of mine talked me into trying the microcurrent facial with Andrea at BioSonic Beauty.  I never like to wear makeup and now I feel so much better about the look and texture of my skin after receiving these treatments.  My kids and friends keep telling me…"something's different, you look great."  I always look forward to my appointment and see better and better results with each one.  So relaxing, simply amazing.  Thank You.
Toni K.
I was feeling so old and decided to give BioSonic Beauty a try. The treatment is so relaxing that it was hard to believe it could make any change.  But I was so thrilled when I saw the results after my first treatment….that once I got home I couldn't stop looking in the mirror!  I noticed the next day that I was actually seeing a bit better because my upper eyelids had raised and were less puffy.  After my second treatment, I noticed my neck was getting tighter.  These treatments are so wonderful and have motivated me to now work on my body and to lose some weight. I am so happy l decided to give BioSonic Beauty a try and l have lost 2 pounds already with a diet I have started!  After my fifth treatment, I actually went grocery shopping right after my treatment WITHOUT any makeup on and I would never have done that in the past 15 years! It's so funny, customers of mine are coming into my boutique and telling me how good and happy I am looking….didn't realize I looked so bad before, haha. This is now part of my taking care of me plan.  I am looking years younger and this is the most relaxing hour of my week.
Betty G.
This microcurrent facial treatment has been awesome! Thank you. Thank you.  No more painful invasive, risky cosmetic procedures for me you have me as a client for life – I love it!
Gandy G.
At BioSonic Beauty, we strive to make it as easy and affordable as possible for you to look and feel your best.  That is why your first BioSonic Facial is at a special introductory price; so you can try it and see how it will work for you.  In fact, we are so confident that we Guarantee results after your first BioSonic Facial or your facial is FREE!
Give us a try.  Let us help you maintain or begin to remove the years for you. Call Today…630-273-7700.