When used correctly, did you know the sun is very good for your skin, your body and your overall health? That's right, the sun can improve your skin and keep you looking young!  On the other hand, if exposed to the sun at the wrong times of day and for a long period of time, the sun can harm your skin and age you very quickly.
The great news is that you can get the full 'anti-aging' benefits of the color spectrum of the sun without all the harmful UV rays, with relaxing sessions of our 100% natural, proven and effective Red LED Light Therapy with absolutely no side effects!
Since you cannot look directly at the sun without hurting your eyes to actually see the seven (7) different colors penetrating the atmosphere…let's picture a rainbow!  Now imagine that rainbow shining down on you and it being your personal 'colorful' way to having your skin always look its best. 
After years of research, the color red is best for anti-aging and keeping your skin healthy by increasing circulation and stimulating the production of collagen and fibroblasts.  With our professional medical grade light therapy device we provide all 7 colors of the spectrum to aid in all anti-aging concerns, with the red spectrum being the most efficient for fast optimal results.
Look Light Years Younger With The Help Of BioSonic LT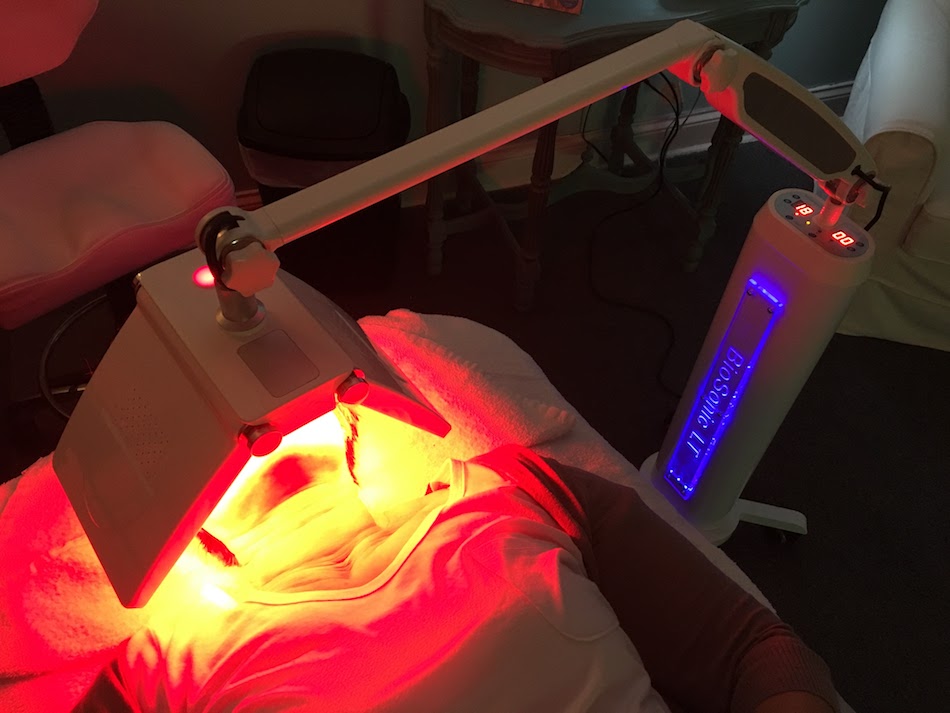 Red Light therapy and its benefits were first discovered by NASA and the amazing findings were released on December 18, 2000. Since that time it has been thoroughly studied and researched for the FDA to approve light therapy not only for wound healing and pain relief and most importantly for our purpose here, anti-aging benefits.
Not to get too technical or bore you about how it works for helping you with your anti-aging, but I am going to try to help you understand why our "Red Light Therapy Treatment" is a must to keep your skin with that youthful, healthy glow.
If you are wondering if this really works; YES it does…here's how.

What Is Red Light Therapy?  And How It Will Help You to Your Best Skin Ever!

Red light therapy is an every-day term for the science of photobiomodulation, and it is measured in nanometers (nm) waves.
1.  It will increase the circulation and the formation of new capillaries and give you an immediate healthy glow to your skin by bringing more oxygen and nutrients into each skin cell,  which will help you maintain a more youthful appearance. 
2.  Increases your lymph system activity and keeps it moving. Stimulating your lymphatic system will help to reduce the swelling and puffiness in your face by 'pushing out' underlying fluids helping to rid you of sagging jowls and under eye bags.
3.  Revs up the cellular energy to tone and tighten your skin by promoting the building of collagen and elastin. ATP is the fuel that powers life at a cellular level. Red Light Therapy stimulates more energy to your cells and helps repair the damaged cells you already have.

4.  Smoothes out fine lines and wrinkles, improves the texture of your skin, and give you a firmer, tighter skin tone by stimulating the production of collagen and fibroblasts.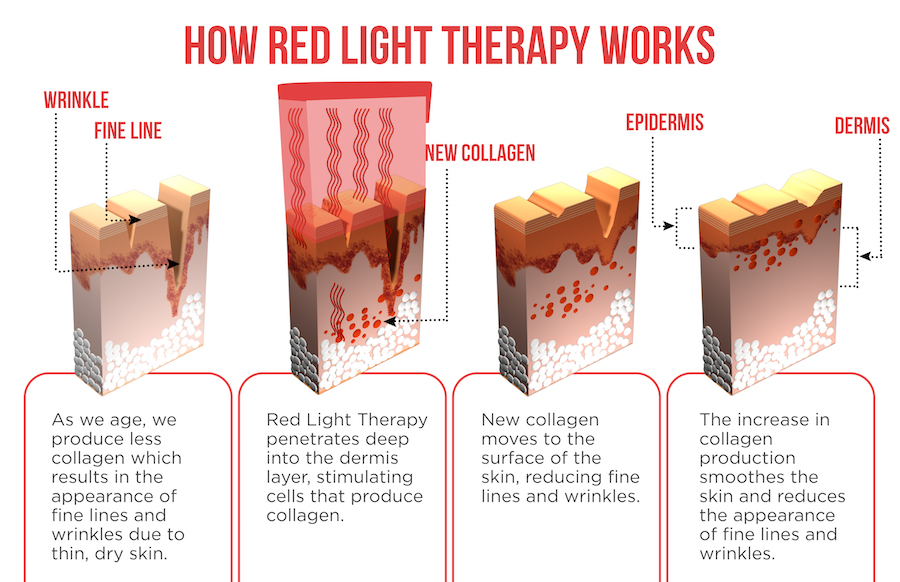 It's Not Science Fiction Anymore, It's Science FACT!

BENEFITS OF RED LIGHT THERAPY
Ok, this is huge! Collagen and elastin in your skin is what is responsible for the elasticity, firmness, and fullness of your skin. Utilizing the BioSonic Red Light Therapy Treatments will increase the production of collagen and fibroblasts that will help smooth out your fine lines and wrinkles, improve the texture of your skin, and reduce the pore size over time. 
Below are a few things you can expect with our Red Light Therapy Treatments.
·   Smoothes overall skin tone.
·   Repairs sun damage.
·   Reduces redness, flushing, and broken capillaries.
·   Brings more moisture to your skin.
·   Gives your face a healthy glow.
·   Reduces wrinkles, including under eye wrinkles, forehead wrinkles, crow's feet, and laugh lines.
·   Speed the healing of blemishes, like acne and rosacea.
·   Fades scars and stretch marks. 
·   Prevents hair loss and stimulates regrowth.
See what PubMed has to say about Light Therapy:  https://www.ncbi.nlm.nih.gov/pubmed/17760698
WHAT TO EXPECT WITH YOUR TREATMENT
Now you may be asking… "what are the side effects of Red Light Therapy?"   It is very important to us to only provide treatments that are safe, effective and natural that have absolutely no side effects.  Being FDA approved and with the hundreds of studies performed over the past 50 years all over the world, it is safe to receive these treatments every single day and benefit from the fabulous anti-aging results.
What to expect when you come in for a Red Light Therapy Treatment.
1.  To achieve optimal results, you will need to have a clean face free of makeup and creams.  Should you come to your treatment with makeup on, you will be directed to cleanse your face with our provided makeup remover cleansing wipes.
2.  The treatments are painless and very relaxing, no burning or no heat comes from the LED Lights.
3.  You will lean back in a very relaxing chair and our technician will position the light over your face. She will then program your Red Light Therapy Treatment, which will last for 20 minutes. It is a wonderful way to take a break and have some beneficial 'you time.'
4.  The treatment will end with the light going out and you will hear a 'beep' and your technician will come into the room to help you.
5.  After your treatment, you can put on makeup or other skin care products and go about your day.
6.  The treatments are recommended at least two times per week for the first week, then once a week for four weeks, and then once a month for continual benefits and to maintain your results.
Pairs Beautifully With Microcurrent Treatments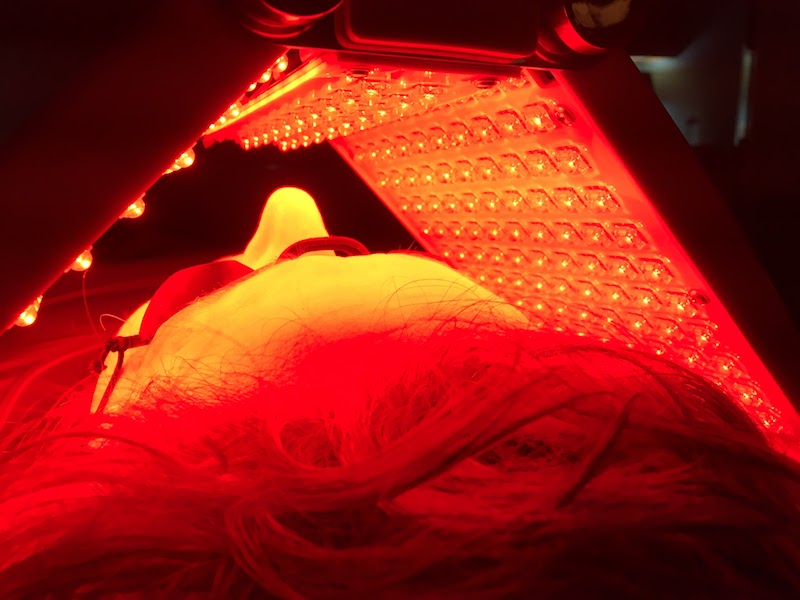 This is a perfect treatment to speed up your results with our BioSonic Facial Microcurrent Treatment.  

Our BioSonic Facial and Red LED Light Therapy Treatment work together to get you to your personal results faster. Both Red Light Therapy and Microcurrent Treatments build collagen, elastin and promotes lymphatic drainage and circulation; however, microcurrent provides the all important firming process of exercising your facial muscles for firmer, more toned skin.
Red Light Therapy goes into the skin about 8-10 mm, which is why it works so great in revving up the energy of the skin and cells, but it does not go deep enough to stimulate the muscles.  Combining these two treatments gives you the perfect anti-aging system.  All with no needles, no surgery, and no downtime…and absolutely no side effects!
Light Therapy simply harnesses the natural healing and skin rejuvenating benefits of a specific spectrum of light and delivers this energy at a higher rate than the sun without the harmful UV rays. 
If you have any questions, please just call us at 630-273-7700 as we are happy to help…or please do feel free to search the web to find out more about how Red Light Therapy can help you to look your absolute best then give us a call to schedule your first treatment.  
Remember "Your Age Is Your Business, Defying It Is Ours" we hope to see you soon.