YOUR AGE IS YOUR BUSINESS, DEFYING IT IS OURS!
Our safe and relaxing non-surgical BioSonic Facial will help to reduce and eliminate those pesky wrinkles, sagging jowls, and annoying droopy eyelids and brows.  Giving you or maintaining a more youthful appearance with NO knives, NO needles, NO pain and NO downtime.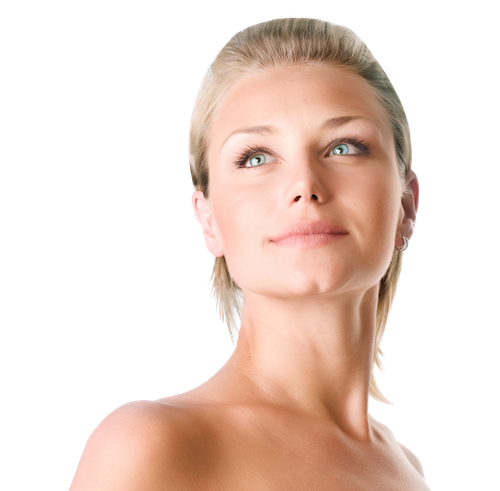 Call Today To Schedule Your Introductory Offer
Only

$79
We Guarantee Results On Your First Treatment or the Treatment is FREE!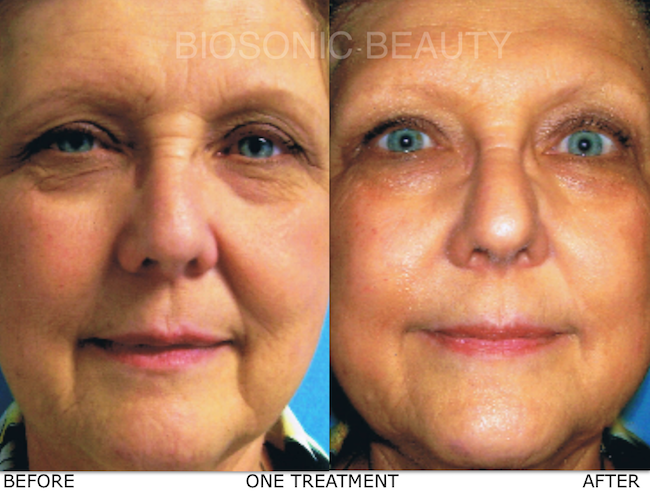 VISIBLE RESULTS
After just one treatment, Barb saw her eyes widen with raising her eyebrows, tightening the skin around her eyes and diminishing under eye puffiness.  Notice how the treatment lifted her cheeks to diminish her sagging jowls.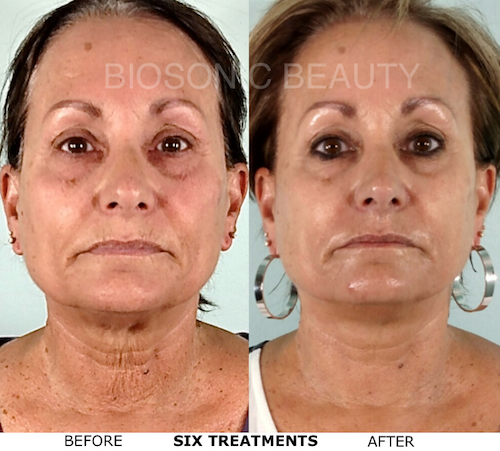 IMPROVES MUSCLE TONE
Tightened up the whole face, smoothed out some of the creases, lines, and wrinkles around her eyes, mouth, and neck.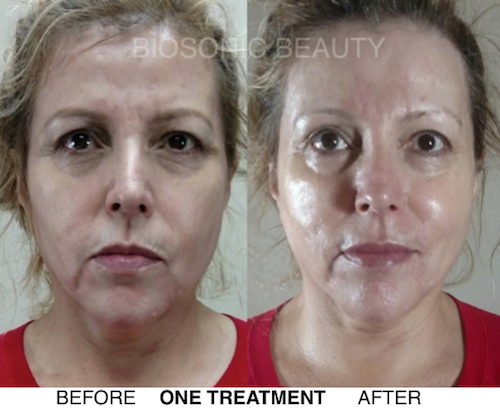 TIGHTEN AND TONE
Stimulate and re-educate muscles while boosting collagen and elastin production for a smoother, more toned and lifted youthful appearance. Results are cumulative and can be maintained.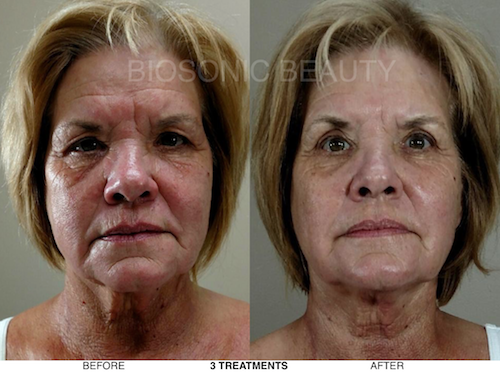 REDUCE WRINKLES
Help reduce fine lines and wrinkles, raises the eyebrows, smoothes out lines around the mouth and lips.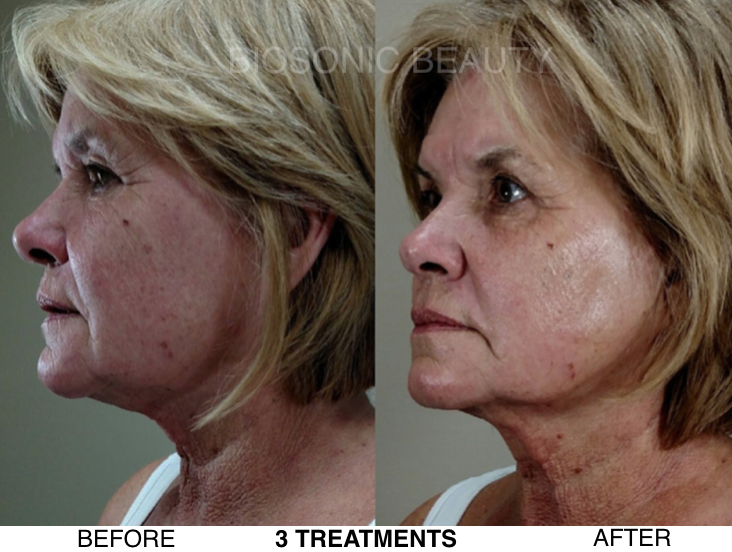 SOFTEN CROW'S FEET
Smooth out crow's feet by diminishing fine lines and wrinkles.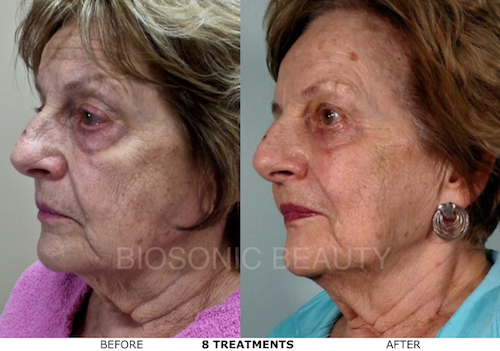 DARK CIRCLES
Soften's the dark circles under the eyes, smoothed wrinkles on the forehead, reduced the lines and wrinkles on the neck.  Plus helps with a more youthful glow, Toni has no makeup on in the after photo.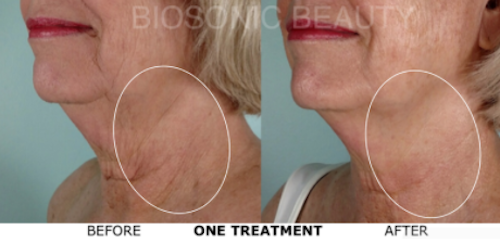 TIGHTENED NECK
Tightened up the neck, smoothed out some of the creases, lines, and wrinkles with only one treatment.
Increase Blood Circulation
Increase Lymphatic Drainage
We Didn't Invent Microcurrent, We Just Perfected It!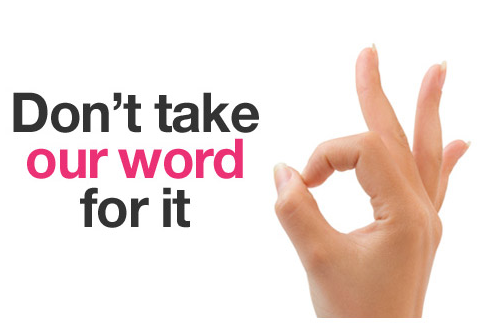 I definitely saw a difference in my face, especially my neck after just one treatment.  Those little muscles remembered how they were supposed to act!  Feel free to use my neck pictures…amazing!
~ June N.
I saw a big difference after just one MC treatment.  I am on my 4th weekly treatment and people are starting to notice something is different about me, but can't quite put their finger on it.  The change is subtle and big at the same time.
~Toni H.
I have trouble sleeping and my skin just always seemed to dry.   A friend of mine recommended BioSonic Beauty because of the microcurrent facial.  She said not only was she looking younger, but every time after a treatment, she slept that night straight through.  Well not only did I sleep, but that treatment was the best cat nap I have had in a long time…and my face is looking better.  My droopy eyelids are no longer dropping.  Wonderful treatment!
~Jane V.
I was having dinner with a group of people that I see every week.  Right in the middle of our conversation, Frank interrupted and said, "where are your wrinkles?" …"what happened to your wrinkles?"  Thank you, Andrea!!!
~JoEllen R.
This microcurrent is by far way more relaxing than my monthly massage and I get to keep my skin looking young and my cheeks and eyebrows high.There will be no drooping here.
~Sandy H.
How did I ever do without microcurrent facials?  After my treatment, I feel rejuvenated and I look younger…my eyelids are no longer sagging and my neck is so nice and smooth.  Being an international flight attendant for over 40 years really takes a toll on our skin…I would get the most wonderful facials in China, BUT these microcurrent facials with Andrea are absolutely the best part of my new beauty regimen.
~Betty L.
Whether I have wrinkles or not…it really didn't bother me.  Everyone at work was talking about this microcurrent treatment so I thought I would give it a try.  Simply put…amazing!  I not only can see a change in my face, but I feel so rested after the treatment.
~ Tina C.
So I saw a lady friend of mine and something about her face was different.  She told me about the microcurrent treatments with Andrea. I am bothered by the bags around my eyes and figured I would give it a try.  I go every 2 weeks because not only do I see a big difference around my eyes, but it is the most relaxing hour and I feel so rejuvenated after a treatment.
~Joe B.
THE SCIENCE
Microcurrent is a non-surgical anti-aging treatment that delivers a safe, painless, low-level electrical current, which mimics the body's own electrical current to directly stimulate 32 different facial muscles while stimulating collage and elastin production.
FDA APPROVED
We use the first and only FDA Approved microcurrent device for professional aesthetics in the world. With over 40 years in the industry and fifth generation of microcurrent machines, we are the leader in achieving twice the results in half the time over other anti-aging therapies.
MICROCURRENT
Because microcurrent is a therapeutic non-surgical, painless and most relaxing treatment, it is known as a "Lunch Time Face Lift." Our specially designed conductive wands deliver a series of precise and calculated currents to either prevent, turn back or maintain a more youthful appearance.
REDUCTION...
Fine lines, wrinkles, creases, dark circles and puffiness around the eyes are reduced while brows, lids and saggy jowls are lifted.
INCREASE...
Circulation, hydration and the production of collagen and elastin are greatly stimulated for firmer, tighter and smoother skin.
"Your Age is Your Business, Defying it is Ours."
It's Very Relaxing and Absolutely Safe
Oh my goodness, this is amazing.  It is not at all what I expected.  I thought it was going to be more aggressive treatment but it was the most relaxing facial treatment I ever had and actually see and feel that it did something on just my first treatment.  It looks like I had surgery without surgery. This is wonderful thanks BioSonic Beauty.
Elisa V.
More and more people are discovering that a non-invasive microcurrent treatment is a better and safer way to achieve a more natural look without the unnatural appearance that is often the result of cosmetic surgery.  Everyone can achieve a their best possible results with absolutely no knives, no needles, no pain and no downtime; with visible results after just one relaxing treatment.
I was feeling so old and decided to give BioSonic Beauty a try. The treatment is so relaxing that it was hard to believe it could make any change.  But I was so thrilled when I saw the results after my first treatment….that once I got home I couldn't stop looking in the mirror!  I noticed the next day that I was actually seeing a bit better because my upper eye lids had raised and were less puffy.  After my second treatment I noticed my neck was getting tighter.  These treatments are so wonderful and have motivated me to now work on my body and to lose some weight. I am so happy l decided to give BioSonic Beauty a try and l have lost 2 pounds already with a diet I have started!  After my fifth treatment I actually went grocery shopping right after my treatment WITHOUT any make up on and I would never have done that in the past 15 years! It's so funny, customers of mine are coming into my boutique and telling me how good and happy I am looking….didn't realize I looked so bad before, haha. This is now part of my taking care of me plan.  I am looking years younger and this is the most relaxing hour of my week.
Betty G.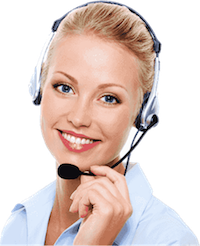 Don't Be Shy, We Want to Help You
If you have any questions about how our BioSonic Microcurrent Facial Treatment can benefit you with your anti-aging needs, please just give us a call.  We are more than happy to help you.  We look forward to meeting you and helping you to look and feel your very best.